My new study guide to Romeo and Juliet, which includes a modern translation, how to write good essays etc. I've taught this play every year of my teaching career!! Tyears of teaching it went into the book.
FGI Publishing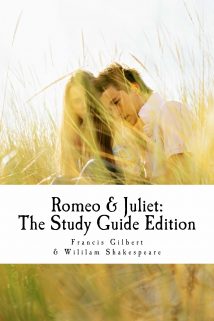 You can buy Romeo and Juliet: The Study Guide Edition in paperback or Kindle.
"Clearly Francis Gilbert is a gifted and charismatic teacher," Philip Pullman, author of 'Northern Lights'.
"Gilbert writes so well that you half-suspect he could give up the day job," The Independent.
"A great teacher," Jeremy Paxman on BBC's Newsnight.
Are you struggling to understand Shakespeare's classic play 'Romeo and Juliet'? Are you a teacher who needs a really good edition of the play which will enable students to understand the play's complex language and cover all the key areas required to get a good grade in an examination or coursework?
This brilliant edition of Shakespeare's great love story may be the answer to your prayers. Written by a teacher who has taught the text for more than twenty years in various secondary schools, this version is aimed at students who must analyse the text in…
View original post 478 more words